Sachiya Steel International is one of the Leading Manufacturer And Exporter Of High Quality Brass Nipple, which is a nickel – iron – chromium alloy which has the addition of copper and molybdenum. Brass Hexagon Reducing Nipple, which has good mechanical properties both at ambient and elevated temperatures of up to 930 Degree F (500 Degree C), is readily fabricated using the common industrial techniques. Brass Hexagon Nipple is often specified when high strength is needed in moderate – to – large sections. Brass One End Threaded Nipple exhibits exceptional corrosion resistance in chemical environments containing phosphoric acid, nitric acid, chlorides and sulphuric acid.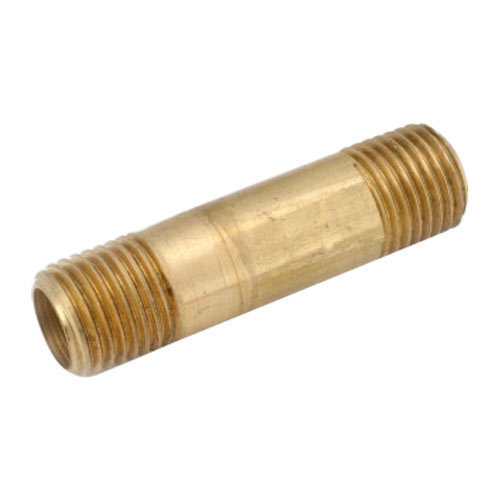 The general effects of these three conditions are qualitatively similar, so low – temperature impact tests (to -50 Degree F) in Brass Both End Threaded Nipple are useful for many applications as toughness indicators under various service conditions and temperatures. For applications requiring maximum ductility, Brass Concentric Swaged Nipple with low Sulphur levels can be supplied by producers using ladle – refining techniques.
When liquid quenching is impractical (because of the danger of cracking or distortion, or because of cost), various low – carbon nickel or nickel – molybdenum Brass Eccentric Swaged Nipple in the normalized – and – tempered condition can be used for low – temperature service. Brass Hex Nipple is the most widely used alloy of the alpha – plus – beta class, and is also the most common of all other alloys.
Specifications
:
ASTM B62, ASME SB 62
Dimensions
:
ANSI/ASME B16.9, B16.28, MSS-SP-43.
Size
:
½" NB to 24″NB
Brass Nipple Chemical Composition
| | | | | |
| --- | --- | --- | --- | --- |
| Brass | Cu | Fe | Pb | Zn |
| Min./Max. | 60.0-63.0 | 0.35 | 2.5-3.0 | Rem. |
| Nominal | 61.5 | – | 2.7 | 35.4 |
Brass Nipple Application Industries
Off-Shore Oil Drilling Companies
Power Generation
Petrochemicals
Gas Processing
Specialty Chemicals
Pharmaceuticals
Pharmaceutical Equipment
Chemical Equipment
Sea Water Equipment
Heat Exchangers
Condensers
Pulp and Paper Industry
We at Sachiya Steel International provide Manufacturer TC (Test Certificate) in accordance to EN 10204/3.1B, Raw Materials Certificate, 100% Radiography Test Report, Third Party Inspection Report. We also provide Standard certificates like EN 10204 3.1 and additional requirement like. NACE MR 01075. FERRIT CONTENT as per norms if requested by clients.
• EN 10204/3.1B,
• Raw Materials Certificate
• 100% Radiography Test Report
• Third Party Inspection Report, etc
We at Sachiya Steel International ensure that all our materials go through strict quality tests before dispatching them to our clients.
• Mechanical Testing Such as Tensile of Area
• Hardness Test
• Chemical Analysis – Spectro Analysis
• Positive Material Identification – PMI Testing
• Flattening Test
• Micro and Macro Test
• Pitting Resistance Test
• Flaring Test
• Intergranular Corrosion (IGC) Test
• Commercial Invoice which includes HS Code
• Packing List including net weight and gross weight, number of boxes, Marks and Numbers
• Certificate of Origin legalized/attested by Chamber of Commerce or Embassy
• Fumigation Certificates
• Raw Material Test Reports
• Material Traceability Records
• Quality Assurance Plan (QAP)
• Heat Treatment Charts
• Test Certificates certifying NACE MR0103, NACE MR0175
• Material Test Certificates (MTC) as per EN 10204 3.1 and EN 10204 3.2
• Guarantee Letter
• NABL approved Laboratory Test Reports
• Welding Procedure Specification/Procedure Qualification Record, WPS/PQR
• Form A for the purposes of the Generalized System of Preferences (GSP)